Africa Update
A Political-Economic Conflict Seminar
---
As the second largest and second most-populous continent in the world, Africa presents a diversity of topography, climate, peoples and languages. The continent's 52 countries have common problems, as well as specific interests and challenges that make Africa of particular interest to the United States.
The presence of enormous energy, mineral and agricultural resources make several African states key components of the global economy. Africa's political and economic weaknesses, along with civil and regional strife, directly affect U.S. national security. If Africa has largely been ignored in the foreign and economic affairs of the major powers in the past, it is clearly now on the international agenda. There has probably never been a better time to consider the challenges and promise of this area.
The political turmoil that began in Tunisia and swept across North Africa and throughout the Middle East may well have echoes throughout Africa south of the Sahara.  Autocracy, corruption, and inequality have already generated conflict throughout the continent and could yet be magnified by the political upheaval in the north.
Drawing upon the knowledge and experience of a diverse group of prominent experts, this workshop will explore the social, political, and economic developments on the African continent. It will address current issues and trends that will affect U.S. national security interests in the years ahead. Talks are informal and off-the-record. Ample time will be allowed for discussion and question-and-answer sessions with each speaker.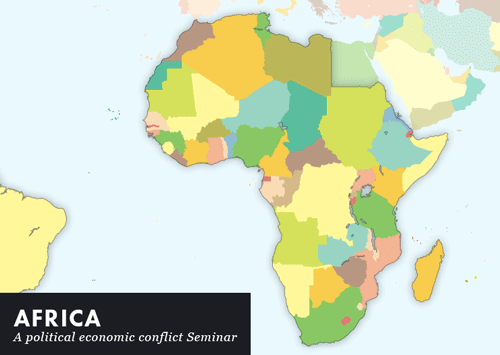 Seminar Topics
---
AFRICOM and U.S. National Security Interests in Africa
Failed States and the International Terror Threat
Africa and the Politics of Globalization
AIDS, Famine, and Other Demographic Disasters
The Growing Chinese Footprint in Africa
Religious Resurgence: Christianity and Islam in a Changing Africa
The Curse of Natural Resources: Winners and Losers in Africa
Conflict and Political and Economic Development in the Horn of Africa
Nation Building in Sub-Saharan Africa: Successes and Failures
A Strategic Approach Toward Africa
Criminal Terrorist Networks in West Africa: Weapons, Diamonds and Militant Islam
Africa: Challenges of Governance and Security
Nigeria: Political and Economic Developments in a Nation Divided
Political Transition in Tunisia
Egypt in Transition: Challenges in the Coming Period
American Society and Africa
South Africa: The Hopes and Disappointments of the "Rainbow Nation"
*The above topics may change to address current events at the time of the seminar.

Moderators
---
The Program Moderator will have extensive experience conducting senior-level foreign policy seminars for the Intel Community. The Moderator will have first-hand knowledge and a detailed, up-to-date understanding of the region being studied in each seminar. In addition to the daily morning introduction and afternoon wrap-up, the Moderator will generally make a separate presentation and be available to provide additional presentations as needed. The Moderator will facilitate, when necessary, dialogue between the speakers and participants as well as lead the group discussions and Q&A sessions.
Seminar Fee
---
The fee for each three-day Foreign Policy Seminar is $2,250 per person. The program will feature approximately 12-15 separate presentations. Also included are daily continental breakfasts and working luncheons. The seminar will be held in a private meeting room at the Capitol Hill Club. An on-site staff person will assist participants as needed and coordinate daily activities.
Registration Information
---
The target audience for these seminars are civilians (GS-15 and above) and military (O-6 and above). Others who have a special interest in the subject, need-to-know, or are in key positions may apply. Seminar space is limited to assure participants have ample time for open discussion with presenters. Upon registration, attendees will receive confirmation via email within five days. Cancellations will be accepted in writing up to two weeks prior to each program. After that time, substitutions will be accepted. The Agency will be billed if registration is cancelled after the deadline.
If you have any questions or need further information, please call Iris Fernandez or Patricia Patton at 703-684-8807.  To register click here.
Additional Information
---
The Foreign Policy Seminars will be held in a private meeting room at the Capitol Hill Club, located at 300 First Street SE, Washington, DC. The Club is directly across the street from the Capitol South Metro Station (Blue and Orange Lines). Business attire for participants is required.
Reporting information concerning registration time and meeting room assignments will be sent to all participants approximately two weeks prior to the start of each program. The seminar meeting room will open at 7:45 am and seminars will be conducted from 8:00 am to 4:00 pm.
These programs are informal and strictly "off-the-record." No video, power point or audio-visual aids are utilized in the presentations
Excellent program; I left very educated about Africa. I realized that can I can learn a lot more. My perspective has grown and I had a couple of "Ah Ha!" moments.
DOD Attendee, Africa Seminar 2015
I truly enjoyed this seminar. The speakers were well prepared and presented the material in a clear and thought provoking manner. Excellent program!
Customs and Border Patrol Attendee • Africa Seminar, 2013
I feel very fortunate and honored to have attended. This has definitely enriched my understanding of just how complex Africa is.
JCS Attendee • Africa Seminar, April 2013
Complete plowing of new ground for me. I honestly feel enlightened. To be exposed to these issues at this moment in time has been fortuitous. Outstanding course!
Air Force Attendee • Africa Seminar April, 2014
Thank you; excellent seminar; refreshing to get a different perspective from subject matter experts. Really do appreciate the work to pull these speakers in for our benefit.
Air Force Attendee, Africa Seminar 2015